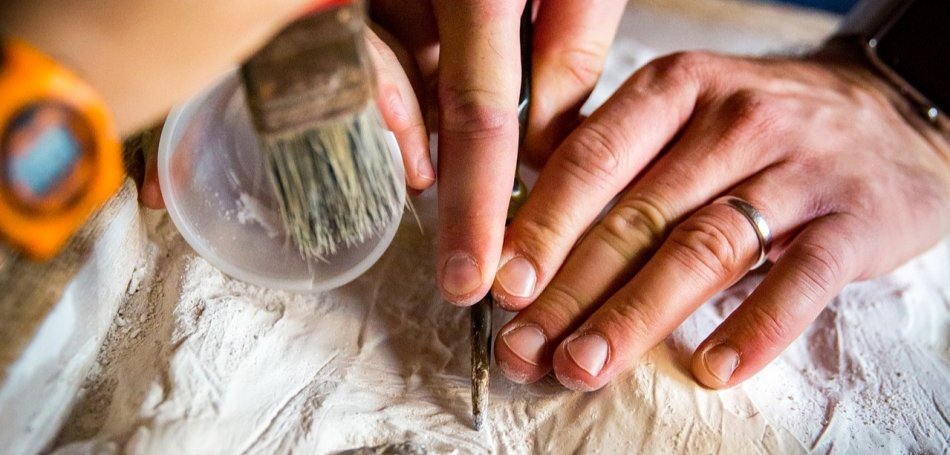 Roman Mining Workshop
NEW ROMAN MINING WORKSHOP FOR THE WHOLE FAMILY
Discover the Roman Mines of lapis specularis and feel like an archaeologist excavating your own Roman site.
We had been working for a long time to be able to launch this experience for the whole family, so we are looking forward to sharing it with all of you.
Lapis specularis 2,000 years ago represented a great revolution throughout the Roman Empire. This mineral was the first crystal in history, fascinating everyone who contemplated it with its transparency. The mirror stone represented a great architectural revolution since until then the windows were covered with wood or fabric, but the glass from Hispania will allow light to penetrate the houses, becoming fashionable among the upper classes of Rome.
We begin our adventure by going underground into the Roman Mines of Lapis Specularis "La Cueva del Sanabrio" in Saceda del Río (Huete). We are lucky to have the archaeologist Jose Luis Córdoba on our Cuenqueando team, who has participated in numerous excavations and is a great specialist in the Roman world and lapis specularis. We will enter the galleries of this old mine as if we were Roman miners, discovering the gypsum crystals, the miners' marks, how they extracted this material, how they lived and we will understand why the lapis specularis in this area became so important. Not in vain did the Roman writer Pliny the Elder write in his "Natural History" that the best lapis specularis in the entire empire was found 100,000 paces around Segóbriga.
After discovering all the secrets of Roman mining, we will arrive at the Extraction Room where we will begin our archaeological excavation. Jose Luis will show us the tools used in archeology and their uses. And now it's your turn! It's time to start your own excavation with your own tools... will you find any treasure?
This Roman adventure is ideal for children between 6 and 12 years old, and they always have to be accompanied by an adult, this way you can enjoy together and share your treasures. We hope to see you very soon!
Reservations: https://www.cuenqueando.com/es/tours/cultura/62/taller-minero-romano
See you Cuenqueando!
---
If you liked post, send us a comment!