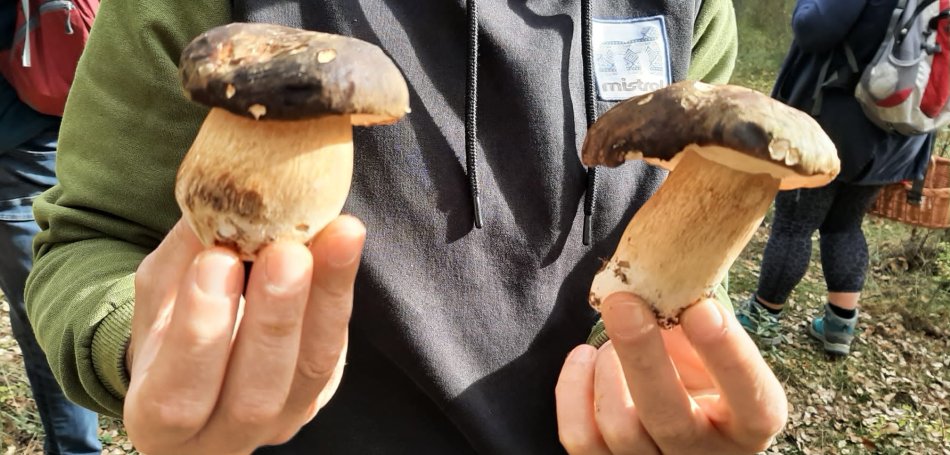 Discover the best Mycological Routes in the Serranía de Cuenca: a trip to the world of mushrooms in autumn
Autumn is coming and with it, the long-awaited mushroom season! The lush forests of the Serranía de Cuenca hide countless secrets, and on this exciting route, we invite you to join us to discover them.

After the summer plans we were looking forward to the rains, walking through the mountains and covering ourselves with a blanket at night. But above all we were looking forward to starting our mycological routes. If you have never come with us, we will detail what this route will be like and we recommend that you book this experience if you like nature, and above all: mushrooms.
What do we do on our routes? The first and most important thing is to do them with an experienced mycology expert who will be your guide on this fascinating adventure, revealing all the mysteries of the mushrooms and fungi that we will find in our path. He will immerse you in the world of curiosities, legends and, above all, in the identification and edibility of these natural wonders. In addition, you will learn methods of collection, preparation and conservation. Are you ready to learn where to find and how to distinguish mushrooms and mushrooms? This guided outing will undoubtedly introduce you to the amazing universe of mycology.
The day will begin with a brief introductory talk at the El Tablazo Restaurant in Villalba de la Sierra, and then you will leave for the Serranía de Cuenca around 10:30 a.m., in search of our valuable objective. During the excursion, we will collect different species of mushrooms, and with the guidance of our guide, you will learn to distinguish them by their names, characteristics, seasonality, growing areas and location. In addition to enriching your knowledge in mycology, you will also obtain valuable information about botany, uses of the plants in our forests and local legends. An educational and enriching day suitable for all ages.
If you are a photography lover, don't forget to bring your camera to capture the beauty of these natural shapes and colors.
The duration of the activity is approximately 4 and a half hours. IF you want to make your reservation and check departure dates you can click on Mycological Route in the Serranía de Cuenca. It is essential to wear comfortable shoes and warm clothing. Don't forget your basket and knife for harvesting! To end the day in a spectacular way, we recommend that you reserve a table at one of the restaurants in Uña, where we will conclude our day. If you are a true gastronomy enthusiast and want to turn this day into an unforgettable weekend, we invite you to explore our exciting Mycological Getaway PLAN.
---
If you liked post, send us a comment!