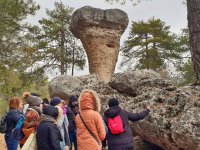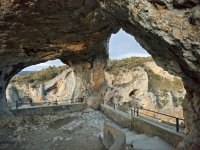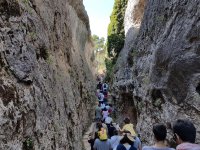 Tour description
At Cuenqueando we have prepared this experience so that you can discover an essential Natural Monument on your visit to Cuenca capital.
ITINERARY WITH TRANSPORTATION
10:50 Pick up at meeting point (Vitae Gym Door)
11.15 Stop at the Ventano del Diablo viewpoint
11:45 Guided tour of the Enchanted City
13:45 Return to Cuenca
14.15 Arrival in Cuenca (Castle neighborhood)

After our guide picks you up at the meeting point, we will begin our journey to the Enchanted City. We will stop at the El Ventano del Diablo viewpoint, with spectacular views over the Júcar canyon. We will be able to observe vultures or Egyptian vultures, among other birds, flying over our heads.
Upon our arrival, and although the name is misleading, do not expect to find tall buildings or ancient monuments, because this site is kept to show you the wonders of Cuenca's nature. The Júcar River, as it passes between Uña and Villalba de la Sierra, forms a gigantic and impressive canyon. It is here, at almost 1,500m. of altitude, where nature has allowed itself one of those whims that always fill the traveler with amazement: The Enchanted City.
The Enchanted City is a natural site that was declared in 1929 as a Natural Site of National Interest. It is currently included within the limits of the Serranía de Cuenca Natural Park (PNSC), within the priority protection zones due to its exceptional geomorphological value, of international relevance.
The amazement it arouses has caused numerous cinematographic creators to find their inspiration in this striking cinematic landscape, adorned by the silence of the mountain. A movie landscape through which artists of the stature of Sophia Loren, Frank Sinatra, Cary Grant, Oliver Stone, Arnold Schwarzenegger have passed.
Here the karst modeling has generated whimsical shapes in the rock that surprise the visitor. These geological phenomena, known worldwide, are rock formations sculpted by the action of water, wind and ice. An underwater landscape that hid the Jurassic Sea of Thetis, predecessor of the Mediterranean. Its paths encourage you to walk through curious stone shapes that recall human figures, objects, animals, with a precision that is difficult to understand, until you reach a delirious city, a city that seems asleep due to some type of mysterious spell.
---
---
We started the tour...
10:50 - Vitae Gym Gate (city bus stops L5 and L6)
---
We finished the tour...
14:15 - Castle District (Historic Center)
---
Included in this tour
Transport
Ecotourism guide throughout the excursion
Entrance to Enchanted City
---
Additional information
Language: Spanish and English
Day's duration: with transport 4 hours
Guaranteed departure from two persons.
Cancellation fees: free of charge up to 24 hours before departure
Valid prices until 12/312023
---