Tour description
Because sometimes it is necessary to get lost to found yourself, we propose you to get lost with us in Serranía Natural Park. El Ventano del Diablo, la Laguna of Uña, Enchanted City and el nacimiento del río Cuervo, are some of the most spectacular points to contemplate the landscape of la Serrania. A unique experience in nature.

ITINERARY
9.00 to 9.30 hotel pick up
Tour of the Enchanted C.
Visit to la Laguna of Uña
Meal
Tour of el Nacimiento del río Cuervo
Stop at the viewpoint"Ventano del Diablo"
18:30 Arrival to Cuenca Cuenca

Our first destination will be the Enchanted City where the karst modeling has generated capricious forms in the rock that surprise the visitor walking around this place for about an hour we will see a unique flora adapted to the different environments that get generated (rock hollows, shady areas, pinewood) as well we are going knowing why the shapes of the rocks are there.
Around noon we will make a brief visit to La Laguna de Uña of natural origin declared in 1988 Wildlife refuge for bird diversity, mainly wintering that inhabit the lagoon as well as other types of raptors and mammals such as otters and, with the help of the optical material (binoculars, telescope) we will see a lot of bird species linked to the lagoon (Gray Heron, Great Cormorant, Lagoon Eaglet) and as rocky cuts (griffon vulture, vulture).
In the town of Uña we will taste our lunch in a typical Serran Restaurant. If you did not contract your lunch you will dispose of varieties of restaurants to eat on your own, or pretty public spaces to eat your picnic.
We will start a walk of 40 minutes that will take us to the Nacimiento del Rio Cuervo. It is about a Natural Monument situated in the Serrania Norte and limits with the Natural Park of la Serrania of Cuenca and el Alto Tajo. Of a huge beauty because of spring formation with a travertine character, as well as the plant formations typical of Atlantic environments: holly, yew, serbal, etc. The big waterfalls will make your visit a lovely experience (depending on the time of year, consult). After making our last and impressive pictures, we will return our way back home.
---
---
Offered languages
Spanish / English
---
We started the tour...
From April 1st to October 30th from Tuesday to Sunday
From November 1 to March 31 from Wednesday to Sunday
MEETING POINT
Hotel pick up:
-Schedule between 9:00 and 9:30 am
Tourist reception center:
-9:30 am
-Av. República Argentina, 28, 16002 Cuenca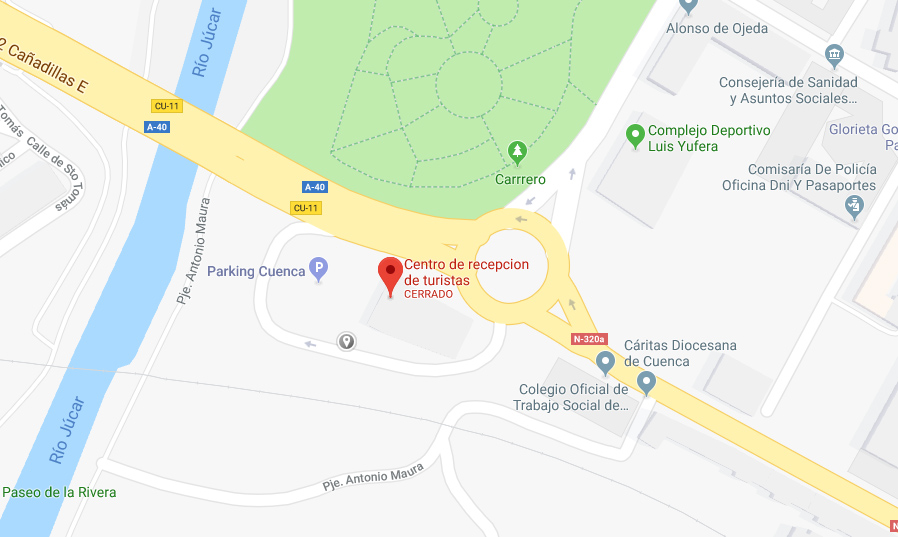 ---
Included in this tour
Transport from Cuenca with hotel pick up
Guide specialized in ecotourism
Meal in Uña (optional)
Entrance to Enchanted C.
---
Additional information
Language: Spanish –English (specify in the reservation, please)
Day's duration: 8 hours
Guaranteed departure from two persons
Indicate hotel of stay where the pick-up is to be made
Reservations until 6:00 p.m. on the day before departure
Cancellation fees: without charges until 24 hours before.
Prices valid until 12/31/2019
---