2 hours and 20 minutes
Tour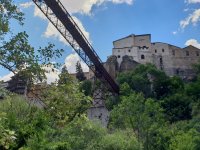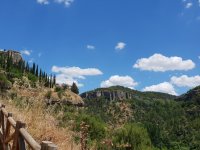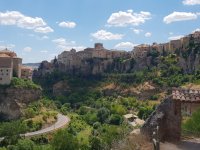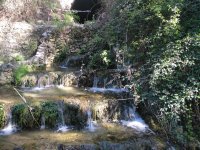 Tour description
Cuenca from its Rivers is a 4-kilometer circular hiking proposal that, through a guided and interpreted route, takes us around the city of Cuenca following the route of the Hoces of its rivers. A fun, very educational hiking tour, suitable for all audiences, including families and children, due to its mix of themes between nature, history and ethnography.
A tour away from the tourist crowds, which presents us with a different point of view of the city, outside of conventional itineraries.
Starting from the Trinidad Park, where the two rivers meet, we will go up the Huecar River, which in the section that passes through the basin is canalized. We will pass through the Gate of Valencia, and surrounding the Wall, we will begin to ascend after passing the Auditorium. At the beginning of our climb, we will admire the San Pablo Bridge and Las Casas Colgadas above our heads. We will climb the Hoz to the remains of the Hocino of Federico Muelas and we will discover who this Poet was and what importance this Poet had for Cuenca.
From there we will continue ascending among increasingly interesting vegetation, leaving behind magnificent views and the best possible photos of the Parador, the Hanging Houses and the San Martín Skyscrapers, until we reach the Castle neighborhood.
From the remains of the Castle, we will go to the Hoz del Júcar under the watchful gaze of the Eyes of La Mora that observe us from the other side of the canyon. Who was the mysterious Zaida? What ties linked her to Cuenca? Along the dizzying slope of Las Angustias we will descend to the Hoz del Júcar, leaving aside the sanctuary, in the background, the great Júcar awaits us in the popular Recreo Peral. From there, we will follow the course of this important river, here the vegetation is very different, each Hoz has its own. We will continue along the Júcar admiring the plant and animal life that accompanies it, as well as the different possibilities it offers to the residents and visitors of Cuenca. Finally the Júcar will meet again with its faithful companion, the Huecar, marking the end of our route.
---
Tour duration
2 hours and 20 minutes
---
We started the tour...
Parque de la Trinidad, Plaza de la Trinidad – Corner C/Palafox with Av. Virgen de la Luz
Stop of lines L1, L2, L5 and L6 of the urban bus
Departures:
From April 1 to October 30: Tuesday and Sunday at 10:00 am
Friday at: 7:30 p.m.
From November 1 to March 31: Tuesday and Sunday at 11:00 am
Friday 16:30
---
Additional information
Requirement level: Medium/Low. Suitable for anyone without special limitations
Appropriate footwear necessary for walking
Group size: maximum 25 people
Spanish Language
The company reserves the right to cancel the tour if the minimum number of participants does not reach 4
Reservations up to 12 hours before departure
Cancellation fees: no fees up to 24 hours before departure. 100% within 24 hours prior to departure
---